//
GARAGE MAKEOVERS
IN BOSTON YOU'll LOVE
Customize & coordinate like any other room in your home.
CONSULTATION
IT'S TIME TO GET ORGANIZED.
CONSULTATION
IT'S TIME TO GET ORGANIZED.
EXQUISITE GARAGE MAKEOVERS IN BOSTON
Another exciting overall feature of our storage products is they all live together. We know that might sound funny, but allow us to explain. All the products match and coordinate.
//
MONKEY BARS & OVERHEAD RACKS
Our Monkey Storage System is available in two powder coated finishes Granite Gray, and Desert Stone. Our overhead ceiling racks are also available in these matching finishes

//

HOOKS, HANDLES & ACCESSORIES
Our hooks and accessories both for the Monkey Bars system and for Slat Wall, also match in our Graphite Pearl Finish. Our cabinet handles are available in the same coordinating finish.

//

PERSONALIZED CABINETRY
Available in a variety of configurations, colors and offered with multiple features, our garage cabinets are the perfect addition to any garage makeover in Boston. The available finishes can be easily coordinated to match our other storage products.

//

FLOOR COATINGS
Choose from a variety of colors to completely upgrade your garage floor. Our coatings are durable and easily cleaned.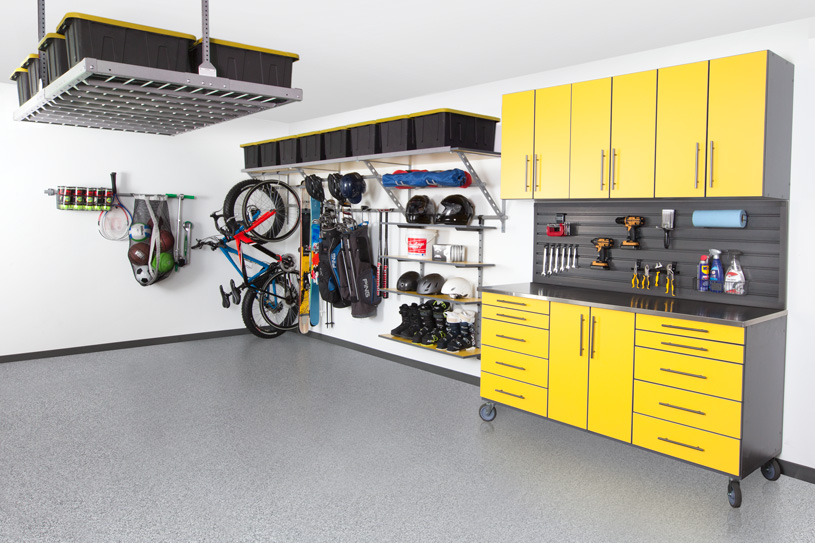 WHY COORDINATE STORAGE?
More often than not, the most functional and maintainable garages utilize a variety of storage solutions. Using a range of solutions will better meet your storage needs.
It's easy for the garage to become cluttered and many homeowners find that mismatched storage solutions only add to the cluttered feel. Make your garage a true extension of your home with storage products built to live and function cohesively.
All of this is brought to you at a competitive price and you will be provided a complimentary 3D proposal.
HOW DO WE DO THIS?
As the exclusive distributor of Gorgeous Garage storage products, Garage Storage New England is your one-stop-shop for garage enhancement. The Gorgeous Garage products are leading the industry in garage storage and organization as well as design and aesthetics.
To explore more design and color ideas for your garage makeover in Boston, visit our line card gallery.
FREE ESTIMATE