//
SHELVING AND RACKS
Get a one of a kind garage with top of the line products.

//
WE'VE GOT OPTIONS
Custom designs to fit any garage and any hobby.
//
ROOM TO SPARE
Get garage clutter off the ground and out of the way.
CONSULTATION
IT'S TIME TO GET ORGANIZED.
CONSULTATION
IT'S TIME TO GET ORGANIZED.
STRONG GARAGE SHELVING BOSTON FAMILIES NEED
Tired of searching for the perfect garage storage solution for your family. Quit trying to fit into a one-size-fits-all solution. Our garage shelving in Boston is completely custom to fit your storage needs. We provide the best garage organization Boston has to offer.
//

Adjustable
The patented bar and hook system is completely adjustable allowing you to customize your storage to your needs.
//

Unique
Our system has a shelf that can store boxes, totes, paint cans and a place to hang bikes, yard tools, and more.
//

Durable
Monkey Bars shelving holds 1000 pounds and the hooks hold almost anything you can put on them.
//

Affordable
You will be surprised at the affordability of Monkey Bars. Our systems cost up to 2/3 less than traditional storage systems.
For the garage shelving Boston homeowners love, give us a
call today
!

STRONG
Holds 1000lbs every four feet of shelving

TWO COLOR OPTIONS

Designed to match any home and style
OFF THE FLOOR

Get everything off of your floor for easy cleaning

COLOR COORDINATED

Designer Series finishes match your garage cabinets.
Monkey Bars Shelving Options
Most homeowners find that the single top shelf of the Monkey Bar System perfectly suits their needs. It should, at 24" deep and 4' long with a 1000 lbs capacity per section. It takes a lot to load up this monster shelf. But if you need more we got 'em.
Drop Down Shelf System: This shelf system adds multiple shelves to a section of your Monkey Bar System giving you the space you need.
Wall Mounted Shelves: If you have high ceilings or space above the doorways, we often recommend our wall-mounted shelves. These are also ideal for storing above windows and above garage doors.
Powder-Coated Brackets & Melamine tops: This makes our shelves the garage shelves Boston homeowners love for any storage situation. With our steel wire shelf, our system can even be installed outside.
FREE ESTIMATE
Garage Shelving Highlights
Layering: Below the shelves hang the bars and hooks. The bars can be moved up and down the brackets and multiple bars fit on one bracket. This allows you to "layer" storage fitting as much stuff in 4' as most systems hold in 8' or more.
Adjustable Hooks: On the bars go the adjustable hooks. This is where most of your storage goes. Our hooks hold bikes, yard tools, wheelbarrows, fishing gear, deck chairs, golf bags, skis, and almost anything else you can think of.
Accessories: Such as ball bags, shoe bags, baskets and more hold lots of stuff which can not fit on a hook. We even have brackets for your kayak.
Lifetime Warranty: We have a lifetime guarantee on all of our products.
Customized to Your Garage: Each system is unique to your garage. We come into your home and custom build your garage storage system to fit your specific garage storage needs.
Give us a call today and get started on your garage shelving in Boston. We will help you through the organization process so you can be proud of your garage!
// AS SEEN ON

If you're ready to transform your garage into the ultimate in efficient organization, garage shelving in Boston is a great way to started!
It's more than storage.
It's your life.™
IT ALL STARTS WITH THE SHELF
// 24" D-10 GARAGE SHELVING
24" deep shelf, 10 adjustable bar positions.
//
16" D-6 GARAGE SHELVING
16" deep shelf, 6 adjustable bar positions.
//
24" D-6 GARAGE SHELVING
24" deep shelf, 6 adjustable bar positions.
32" deep shelf, 10 adjustable bar positions.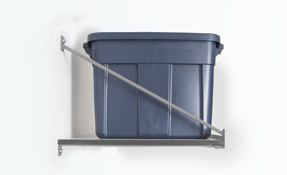 Great for over windows and doors.
Great for over garage doors.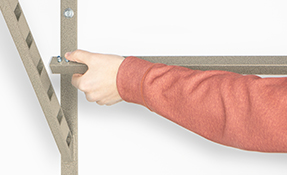 Easily and securely snaps in and out of the brackets. Available in 35" and 51" lengths.
Hooks snap on and off bars and hang almost anything off the ground.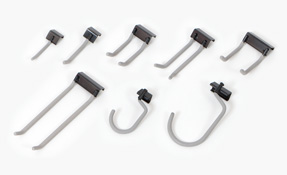 Eight hook types to neatly store the items in your garage.
//
ADJUSTABLE WALL SHELVES
Shelves 13" deep and 36" or 44" long. Can mount directly to a wall or suspend from a Monkey Bar.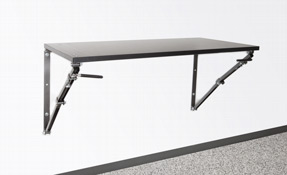 Sturdy when you need it, out of the way when you don't.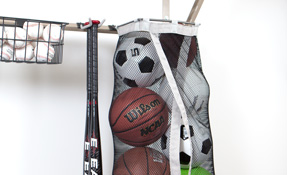 Easy organization for sports fans in your family.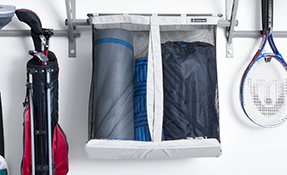 Great for helmets, sports gear, exercise equipment and more.
Perfect for holding garden hoses, air hoses, and extension cords.
Stores golf balls, baseballs, hand tools and more.