//
DURABLE FLOORING
Give your garage a gorgeous floor that lasts.

//
WORRY-FREE FLOORING
Spills wipe right off our durable flooring.

//
BEAUTY AND DURABILITY
Give your garage the floor it deserves.
CONSULTATION
IT'S TIME TO GET ORGANIZED.
CONSULTATION
IT'S TIME TO GET ORGANIZED.
UPGRADEd GARAGE FLOORING
BOSTON
HOMEOWNERS LOVE

Beautify your garage floor with our durable floor solutions. These solutions are durable, easily maintained and look great at the same time. Both of our solutions for garage flooring in Boston are resistant to water and scratches which helps maintain longevity and look over time. Let us help you transform your space with a custom garage floor!
//

Garage floor coating

Available in a variety of colors, our garage floor coatings are easily coordinated with other storage solutions to create a true extension of your home.
//

Garage Floor tiles
Our quickly installed garage floor tiles are a simple solution for garage flooring in Boston. Each tile is built to withstand spills, chemicals and peeling.
INDUSTRIAL STRENGTH
Our garage flooring can handle years of abuse

EASY TO CLEAN
Maintaining a pristine appearance is no problem.

CHEMICAL RESISTANT
Don't fret over spilled gas or oil
PROFESSIONAL INSTALL
Authorized dealers to ensure a proper installation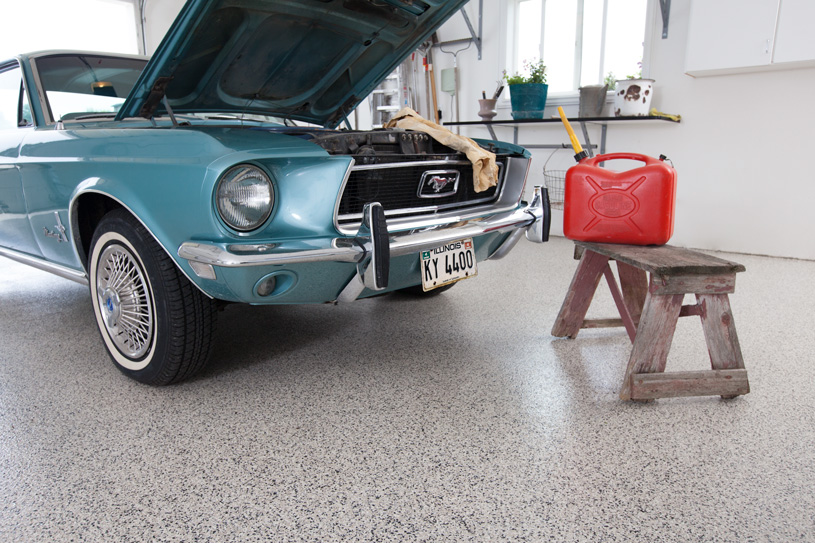 FLOORING YOU CAN TRUST
Through our years of experience, we've found that DIY floor solutions are not built to last. We use premium products and fully prepare the surface to ensure a long-lasting solution for garage flooring in Boston that you will love for years to come.
Full Floor Prep: The key to a good job is great preparation. We prep your garage floor by grinding away any previous coating or epoxy, smoothing any cracks or defects in the concrete and filling any pits before applying our floor finish.
Installation: Like all of our products, our garage floor products are professionally installed to ensure proper application and preparation.
Colors and Finishes: We offer a range of color options to choose from to better match your design goals.
Increases Value: Add value to your home with one of these durable and attractive floors.
Safe Chemicals: We use only low VOC, Non-toxic chemicals that do not produce harmful vapors.
FREE ESTIMATE
Highlighted Benefits
Long-Lasting: Made with high quality materials and thorough surface preparation, these solutions will last for years to come without peeling or flaking. Our tiles will not bend or warp after years of use.
Clean Garage Floor: The visual appeal is amazing! You will feel like your garage is cleaner just by having a nice, easy to clean floor.
Ease of Maintenance: With nothing on the floor, garages have never been so easy to clean. You just need a broom, mop, and cleaner and you're good to go.
No More Oil Stains: Oil leaks and spills are easy to clean up because you have no cracks in your floor.
// AS SEEN ON
Let us help you create the garage of your dreams with top-of-the-line enhancement products!
It's more than storage.
It's your life.™